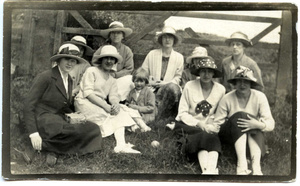 Mrs. Wilson thinks that this photo was probably taken at Boulby Barns.
Georgina Codling (Thurlow) is on the left of the back row.  Could Isabel be the little girl in the middle?
I wonder what the occasion was.  The young woman on the left, at the front, is holding a small parcel. 
(Image courtesy of Mrs. J. Wilson)