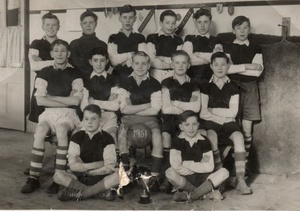 Skinningrove school was where these budding footballers were from and some of the names are:-
Back row LtoR:- Derick Garbutt, Donald Hatton, Brian Ferguson, Billy Winspear, ??, George Lettin.
Next row:- Micheal Buckingham, John Anderson, Arthur woodrow, Brian Soloman, Norman Hill.
Seated:- ??,  Lawrence Smith.
Photo courtesy of Maureen Anderson.