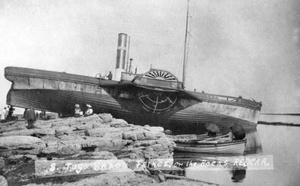 Fred Brunskill tells us: "The Saxon Prince was a wooden hulled paddle tug from North Sheilds. Built in 1874 she had a twin cylinder steam engine and a crew of four.
In July 1907 she was towing a lighter when she ran aground in fog and was left stranded…Local boatowners ferried out hundreds of people as she became a tourist attraction for the town. She sustained severe damage and eventually was broken up."
Thanks to Fred Brunskill and the wreck is confirmed in Redcar Ship Wrecks.