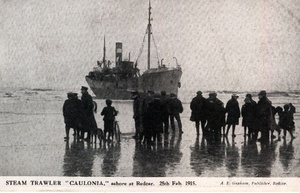 Steam Trawler Caulonia ashore once again at Redcar 25th February 1915
Geoff Ayre tells us: "I remember in the 1950s going on a pleasure boat (ie fisherman's boat) and at low tide stuck on the rocks was the bow of a ship. Later destroyed, as I heard the ship blown up owing to ships heading for the mouth of the Tees being drawn toward the wreck whilst waiting for the tide."
If any body can assist with a date for destruction, the site would be grateful.
Thanks to Geoff for the additional information.