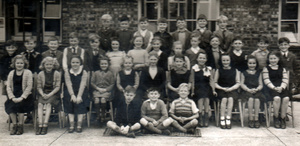 Once again the names were with  the photo, but I have altered some because I think they were wrongly named I know you will soon tell me if I am wrong.
Back row:  Robin Bielby, Joe Verrill, John Jefferson, Mike Grange, David Winspear, John Swales, Jonathan Clark.
Next row: Eric Johnson, Mike Batchelor, Harvey Wallaby, Peter Mortimer,  Christopher Williams,  Joyce Green, Wendy Gibson,  Shelagh Barwick, Jenny Blueitt, Mike Pearson, Fred Baldwin, Charles Peggs, Bob Ward,  Mike Hoare.
Next row:  Jean Warrell, Margaret Turnbull,  Christine Norminton, Jennifer Spearpoint, Barbara Cummings, Jean Shaw, Dorothy Bard, Dorothy Hill, Valerie Jackson, Veda Todd, Maureen Cook.
Seated: Peter Elwood, John Carter, John Oglesby.