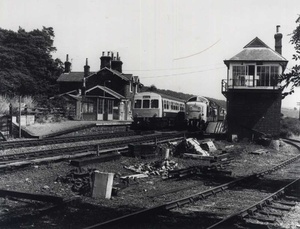 I couldn't resist posting this image! 
David tells me that it's Castleton Station, but when was a Class 55 "Deltic" on the Whitby line, I know that there used to be one at the North Yorkshire Moors Railway?
Russ says "Without sounding too trainspotterish,it was 55002 on a special to Whitby in summer 1981. I remember seeing it go through Ayton".
Craig tells us: "55002 did two Merrymakers from Newcastle to Whitby on 02/08/81 via Durham, Ferryhill, Stockton, and the 2nd one on the 30/08/81 via Sunderland, both I believe had what are now termed Mini Tours from Whitby to Middlesborough and return during the day."
(thanks David, Russ and Craig for the updates)