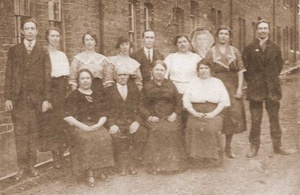 This Photo shows the Money family in the 1920's ( I think) what the family gathering was for I do not know but it shows all the Money's,
 from L toR :- Edward Isaac (Ted), Margaret (Meg), Violet (Vi), Ivy, John (Jack),  Louisa (Lou), William (Will),  Florence (Flo), James Verrill (Jim born before marriage)
Mary, William Tyers, (father) Mary Ann,(mother) known as Polly, Sarah (Sal).
William Money came to the Loftus area from Barrowby in Lincolshire between 1871 and 1881 with his wife Mary and his sons,  William Tyers aged 20, John Henry 15 and Edward 13. ( taken from the 1881 census)  They came here for the work in the ironstone mines and before their arrival there were no other Money's in this area that I can find, please correct me if you know better.  Edward moved to Bishop Auckland (1891 census) and John Henry emigrated to Australia married and had a family there.  So most people named Money in this area came from someone in the above photo.
I have been checking my file and it shows that William  Money and Mary Ann Verrill (yes a Verrill from Staithes) were married in 1887 so I think the photo would be on the anniversary of their 40th wedding anniversary in 1927.  Can you believe that in 1911 (as shown on the 1911 census)that  William, Mary Ann  and 10 of their children were all living in 28 St Hilda's Terrace Loftus, how did they manage?  I bet they were glad when their children got married and they had the house to themselves to live out their retirement in.
How about this for a guess?  Picture taken outside 34 Hartington Street!  Could be Norman there or St Hilda's Terrace.