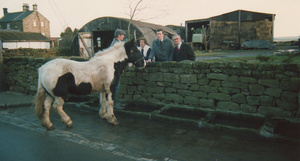 Steve Kaye and Norman at the docks, with Peter and Sheena Smith. Elaine Boocock tells us: "I think this picture would be early to mid 1980′s and the horse I believe is Minett, belonging to Peter and Sheena's daughter Cheryl. I rode her on few occasions."  Was this the occasion when some wanted the docks removing?
The old  adage rings true you can lead a horse to water but you can't make it drink.
Thanks to John Preston for the missing names and Elaine for the update.