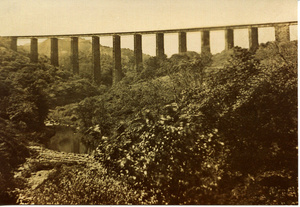 You can see from this much earlier image how light and open the valley was originally.  I wonder if the viaduct had been built with arched spans whether the problem would still have manifested itself.  I'd need an engineer to tell me – is there an engineer in the house?
Simon Chapman tells us: "
Kilton Viaduct opened for traffic in 1867 and was later filled in with shale to create a massive embankment so that mining could take place beneath it. During this work which took years, one of the pillars showed signs of stress possibly because of uneven tipping, so traffic over was stopped for a fortnight until the problem was remedied. So if the viaduct had been built with arches it would still have ended up as we see it today."
Thanks to Simon for the update.