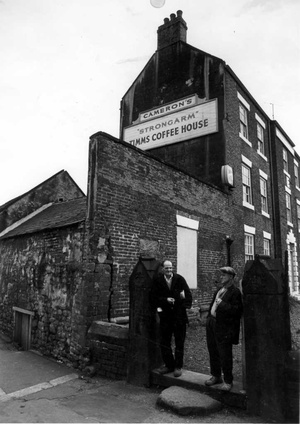 Two gaffers enjoying a smoke and a yarn outside Timm's Coffee House in Skinningrove after coming off shift.  Now known to be Bill (Drummer) Wilson on left and ? Roe. A rather grand name for a working class pub, but one that has stuck – it is the only pub in the village, the Working Men's Club and Institute having "gone to the wall" some years ago.
Notice the low-level hatch for beer deliveries and the ornate gate posts – Timms Coffee House was used as a coffee house. in the 18th century it was a luxury item and quite expensive.It was where the gentry of the time would meet. The building was built by Tim Maynard's father in law John Easterby M.P. to replace the Old Hall, the present day Post office. 
Image courtesy of Graham Smith, with thanks to Kim, Colin Hart and John Kennedy for updates and names.