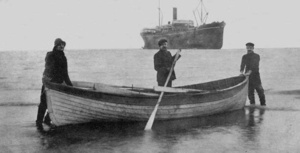 Another photo from Fred Brunskill, these three Redcar  men are Left to right Thomas Hood Picknett, Will Raine and Thomas Bilton Picknett.
They gave first aid to some of the injured crew of the Awa Maru. Ian Bushell tells us: "My Grandfather, William John Weatherill BOAGEY and his brother Leslie befriended one of the crew of the Awa Maru. The crewmember lodged with the family until the ship was towed off the rocks and continued to send postcards from around the world. Crew members name as far as I can make out was K Uematsu.
Thanks to Ian for that update.