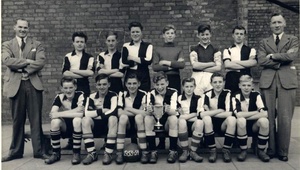 A photo loaned to us by Eric Rowe shows the school football team of 1953/54 some of the names are:-
Back row: Mr Temple, Billy Pearson, Barry Lancaster, Brian Yeoman, Alec Cuthbert, Eric Husband, Billy Bell, Mr Snowdon.
Front row: Albert Breckon, Desmond Rogers, John Winspear, George Wilson, Derick Smith, Eric Rowe, Maurice Myers.
Thanks to Derick Pearson Jean Hugill(Ferrer) for updates.