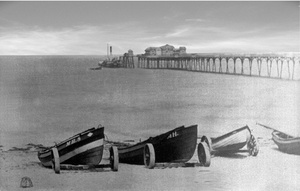 The boats are pulled well up and it shows the pier very well, but is it Redcar or Coatham pier?
Fred Brunskill advises us: "This is Redcar Pier taken in it's early days. The Pier was opened by Emma Dawson in 1873 and the end section was a steamer jetty, this unfortunately was damaged by the steamship 'Cochrane' in 1885 and had to be pulled down."
Thanks to Fred for the update.