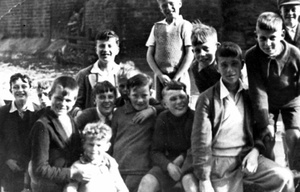 This photograph was taken on the lifeboat slip at Staithes was taken in July 1936.  The boys in the photo are:
Gordon Crooks, James Thompson, Harry Hall, Brownie Theaker, Alf Pearson, Walter Hall, Dennis Theaker, Teddy Theaker, Joe Theaker, Frank Johnson, Frank Theaker, Dennis Parkinson, James Laverick  and Jeff Verrill.
Thanks to Dorothy Gilbert for the photo and information.