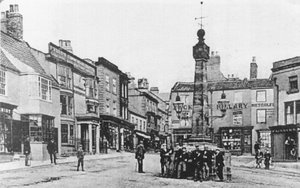 I wonder what the topic of the day was with these men gathered at the cross in Guisborough? You wouldn't or couldn't stand there today.
It has been suggested by Owen Rooks: "This could be a picture of the hirings, a process by which young able bodied men were engaged as agricultural labourers on yearly contracts. My father left school at the age of 12 in the early 1900?s and became a farm worker living in with his employers at various locations around the area. I remember him telling me how he walked from Skelton to stand at the Market Cross in Guisborough in the hope that someone would "hire" him. I don't know how often this ritual occurred but it must have been a rather humiliating process. The picture seems to show such a group of young men with a prospective employer standing to the left (holding the stick)".
Thanks to Owen for that possible update.