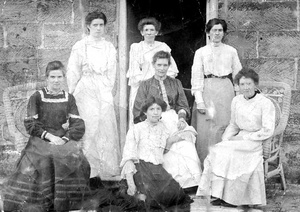 This photograph of the seven sisters was taken at Boulby Barns in about 1905.  That was the year in which both Mary Ann and Bessie got married.
Ada, Sarah Hannah (Sally) and Barbara are standing at the back.  Mary Ann, Bessie and Lucy are sitting on the chairs.  Georgina, the youngest, is sitting on the ground in front.
Thanks to Mrs. J. Wilson for the photograph and information.
I had made a mistake with the names.  Gordon Main has been in touch to tell us that "if you look carefully I notice that they are all wearing the same dresses as in the large family photo so I suspect it was taken on the same day.  Mary Ann  is in the dark dress on the front row in both cases.  In the family picture she is nursing my Aunt Marjorie as a large baby . As it is June/July (see the roses) this makes Marjorie about 1 year old which dates the picture to summer 1907."  Many thanks to him for this information, as I can now name the sisters in the large family group.