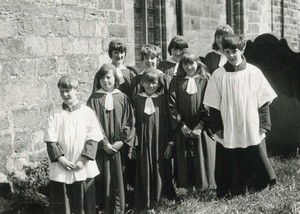 This photograph of the choir of St. Michael's Church, Liverton, was taken in about 1966.
At the back:  Margaret Maudsley, June Lees, Susan Whitwell and Christine Wallace.
In front:  David Lees, Janet Codling, Audrey Wallace, Jean Wallace and Douglas Lees.
Thanks to Mrs. Janet Wilson for the photograph and information.