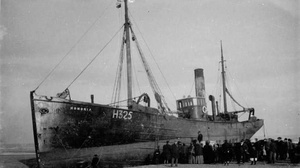 The Honoria beached in 1901 at Marske, three Redcar fisherman drowned in attempting to rescue the crew of this steam trawler.
Fred Brunskill advises: "The 'Honoria' was aground and four of the local Picknett family were amongst the seven aboard their coble which had set out to assist the stricken boat. Longtime serving lifeboatman Thomas Hood Picknett was very lucky to survive as their boat was overturned as it was caught up in rocket lines.. On that fateful day, Thomas lost his two sons, John and Edmund and also his brother Richard."
Thanks to Fred Brunskill for the update.