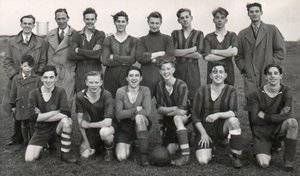 Do you recognise yourself here, can you tell us the occasion?
The names are:-Les Webster, Mr Harrison,Fred Halton, Bill Hyde, Brian Stonehouse, Derick Gales, Ted Wheatman, John Bryant, Mr Harrison's son, Geoff Cox, Dennis Thomas, Charlie Hellings, Col Collinson, Jack Faye, John Frankland.
Brian Stonehouse tells us: "This photo was taken on Redcar racecourse about Nov/Dec 1951. I was sports secretary of Loftus Youth Club and had to organise all the fixtures. We played in the area youth club league against Whitby, Redcar, Thornaby and Grangetown (who were a nursery club for Middlesbrough FC and who used to trounce us!) As we had no field all our home and away matches were played away. I picked the team and as no one ever wanted to play in goal I always got the job. Geoff Cox had a goalkeeper jersey, which I used and on that particularly day I bought it from him for 5 shillings. You can see the racecourse structure displaying the runners and riders between Ron Webster and Mr Harrison."
Photo courtesy of Audrey Winspear and thanks to Brian Stonehouse for the update.