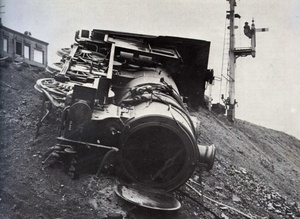 This is a J39 -0-6-0 no. 1448. It was the first of a class and almost new when the incident took place, it was derailed at the trap points at Lumpsey mine near Brotton.
No I haven't started train spotting photo. Information from Derick Pearson.
This J39 Loco was not a writeoff, it went on to be renumbered 64700 under BR ownership and remained in traffic until 1961 (based at Sunderland Shed) – it was cut up at the British Railway's Cowlairs works in August 1961. Additional inforamtion courtesy of Ray Brown.