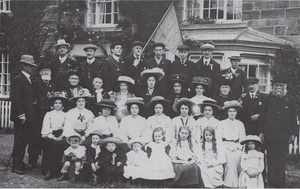 A nice photograph of a group gathering; in 1910 in the Market Place, Loftus. However I know for certain that there are at least 5 people from Carlin How on the photo, so it may have been a mixed Chapel or church outing.
Back row: Leslie Nicholson (magistrate), Fred Nicholson, ??, G. T. Goodwill.
Third row: ??, ??, ??, ??, ??, ??, Mrs Goodwill,??,Margaret Elizabeth Hall (nee Ord), ??, Charles Hall.
Second row: ??, ??, ??, ??, Clara Nicholson (nee Hall), ??, ??, ??.
Front row: Lesley Nicholson
Three of the young women are my great aunts; Mary Suckling (Murray), Hannah Suckling and Lydia Suckling (nee Donnelly) and possibly my grandad Andrew Suckling.
Image and names courtesy of a CD compiled by Derick Pearson; thanks to Neil Suckling and George Tremain for the updates on this photograph