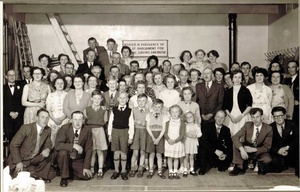 Family and friends have gathered round Maureen Hogan (nee Readman) at her 21st birthday party, at Easington Village Hall in 1955.  She is in the middle of the group.
Back row: Harry Parker, Edwin Parker, Mr Best, Mr Parker, Mrs Best, Wilf Swalwell, Irene Kitchener, Fred Kitchener, Shelagh Baldwin, Ann Readman, Betty Fletcher.
Third row: Jean Wilson (Leng), Peggy Parker, Albert Allan, ??, Austin Sanderson, Hector Wilkinson, Mrs Wilkinson, ??, Hilda Readman, Hazel Parker, Don Hogan, Maureen Readman,  Joe Wilkinson, Robert Hogarth, ? Sedman, ? Sedman, ? Sedman.
Second row: Ike Page, Norman Wilson, Rita Welford, Hannah Cook, Betty Readman, Ruth Wilkinson, Marjory Swalwell?, Keith Wilkinson, Ken Wilkinson, Colin Swalwell, Val Swalwell, Maureen Readman, Rosie Sanderson, Gerald Readman, Barbara Laws, Esther Wilkinson, ??, Lilian Cook, Mrs Hogan, Eileen Laws, Janet Atkinson, ? Sedman.
Front row: Allan Readman, Bill Wilkinson, Tony Wilkinson, Francis Readman, Ken Wilkinson, Brian Parker, Barbara Wilkinson, Margaret Readman, Rip (William) Hogan, Billy Winspear, Les Hogan.
(Image courtesy of Keith Bowers, thanks to Eric Johnson and Maureen Hogan for names update)