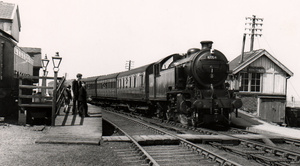 Here L1 2-6-4T number 67754 stands adjacent to the signal box with a mixed train of 2nd/3rd class composite coaches, the first carriage being quite a modern example, while the rest are pre-1939.
Engine no 67754 was in charge of the last passenger train from Whitby to Loftus, in 1958. on the left of the photo behind the boys on the platform can be seen a camping coach, several of the stations between here and Scarborough had these carriages in sidings at the stations, for holliday makers. thank you for that information Eric,  all help gratefully accepted, joanj.
The old station building still stands, it is now a private house, but still is an obvious former railway building.