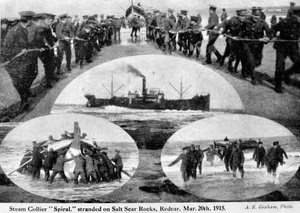 A lovely set of photos of the Steam Collier Spiral stranded on Salt Scar rocks.
Fred Brunskill advises: "The 'Spiral' laden with coal was aground on Saltscar rocks for some weeks and some local fishermen were employed to dump the cargo to lighten the vessel, this was succesful and the 'Spiral' was re-floated and taken to Hartlepool for urgent repairs.
The 'Fifi and Charles' was Redcar's lifeboat at the time and was often used to ferry the local men backwards and forwards to the ship. The above photo was taken as soldiers from the local army camp assisting the launching crew. At that time horses and manpower was the only was of launching and retrieving the lifeboats."
Thanks to Fred for that update.