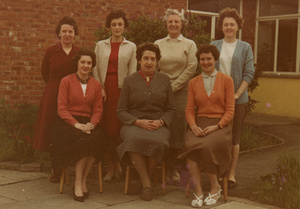 Standing: Miss Sibley, Miss J Norminton, Mrs Coser, Miss J Long.
Seated: Mrs Gladman, Miss Goldsbrough (Head), Mrs P Hitchen.
1961/2 was Miss Long's first year in teaching and she was only at Harry Dack for that year, afterwards became a stalwart of Loftus Junior School. It was also the final year as Head for Miss Goldsbrough, retiring 31st July 1962.
Thanks to Alison Atkinson for the updated information.