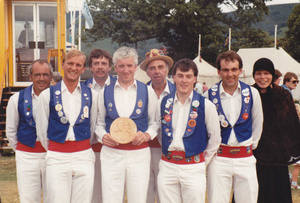 An unknown date, but I reckon it must have been about 1984/1985 and the took a Gold too! Posing proudly with their trophy:
Back Row (L to R): Sid Robson, Colin Galilee, John Waite (musician), David Gratton (old woman).
Front Row (L to R): Colin Locker, John Hill, Colin Chisholm, Kevin Hullah.
(image courtesy of J Hill)